SmartSaline™ Revolutionary Hydration
• Converts normal saline into a preventive-medicine blood-balanced crystalloid 
• Buffers electrolytes with the most safe and most powerful redox agent
• Reduce IV error rates (currently at 67%, see PMC3228265) 
• Delivers the ultimate in preventive medicine
• No hospital investment required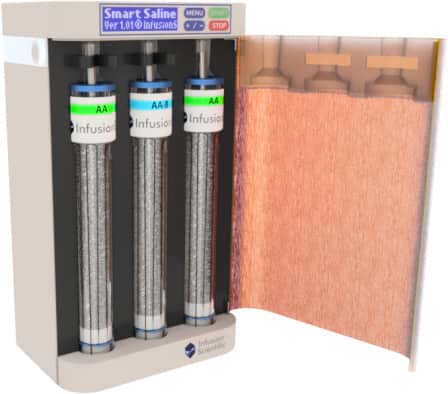 What is a SmartSaline™ Machine?
Enjoy error-reducing delivery of either straight saline or saline modified to much more closely match blood, while having substantial preventive-medicine advantages, many which are listed below.
"Ascorbate is the only plasma antioxidant that completely protects plasma lipids against detectable peroxidative damage. Ascorbate is the most effective aqueous-phase antioxidant in human blood plasma."

- Proceedings of the National Academy of Sciences 1989 Aug; 86(16): 6377–6381.
Cross-section of top portion of
the Redox-Crystal™ cartridge
The ascorbate molecule is very fragile in water (with an oxidation half life of around 1 hour), so it is kept in a proprietary solid form in Redox-Crystal™ cartridges.  It is then dissolved as needed at a dynamic interface in sterile water for maximum redox power. The result is combined with normal saline (NS) as needed. One cartridge can treat 100+ patients.


A recent study observed 60% of patients at a university hospital were at scurvy levels, thereby hampering collagen production for tissue repair, depressing immune response, and limiting free radical defense.

- Journal of the American College of Nutrition 2008 Jun;27(3):428-33.
Note: SmartSaline™ makes normal saline more like blood while eliminating scurvy to improve tissue repair, immunity, and defense against free radicals.
A Preventive Medicine Example...
Sepsis is the #1 killer of childrena and the #1 killer in hospitals in general.b
Sepsis is increasing 13% annually.c
Sodium Ascorbate Justification (This is the majority solute making up the blood-balanced salt in SmartSaline™)
There have been a total of 6 sepsis studies using intravenous sodium ascorbate as the main constituent, all at similar dosages to SmartSaline™ hydration.
All studies demonstrated exceedingly superior efficacy against sepsis compared to conventional care.  The most recent effort demonstrated a 99% success rate to full recovery (see human study #3 below "Follow up").  In comparison, up to 1/3 of all sepsis patients die by using conventional care.a
Human Model Studies
PMC3937164 (2014) – The treatment significantly reduced inflammation and endothelial injury. Patients: 8 standard-care vs 18 new treatment.
PMC4843590 (2016) – The 28 day survival was 4.5 times better than standard-care. Patients: 14 standard-care vs 14 new treatment.
PMID27940189 (2016) – Sepsis attenuation for everyone treated  (note 8.5% died after most sepsis symptoms disappeared).  In the standard-care group there was 3x more vasopressor use, and over 4 times more died (40.4%)  – mostly without any sepsis attenuation. Patients: 47 standard-care vs 47 new treatment.
Follow up to this study: The lead researcher announced that 149 out of 150 patients experienced a reversal of symptomse and over 50 clinics now use the protocol.f
Mouse Model Studies
PMID21358394 (2011) – The treatment, given 30 mins. after endotoxin administration, prevented typical lung damage.
PMC3293508 (2011) – Prevented sepsis-associated vascular leakage through a number of corrective mechanisms.
PMID23917525 (2014) – Reversal of sepsis induced organ-dysfunction and blood coagulation problems.
The Need: Approaching Costly Epidemic Status
Sepsis costs are becoming staggering … comprising over 6% total of hospital costs.d  New York State now requires all hospitals to adopt sepsis protocols ("Rory's Regulations").  Similar efforts are going into effect nationwide to deal with the problem. A high-value cost-effective treatment is desperately needed.
NOTE: Preventive Approach (not a Reactive Approach) is Necessary to Avoid Residual Functional Impairments
Sepsis survivors often experience life-altering residual impairments, from cognitive function to impaired physical abilities.a  The best strategy is then a preventive protocol.  To date, SmartSaline™ modulation of normal saline for hydration is the only practical preventive medicine for sepsis. Special consideration is recommended for patient segments for whom sepsis incidence is 3x above average: patients over 60 and smokers. Also special consideration is recommended for children since sepsis is the #1 cause of childhood mortality.a
a G-I-N 2016 Berlin b PMC3488423  c PMID23442987   d PMID NBK368492  e webref1  f webref2.
See also PMC2767105,  PMID22116695, and PMC3061919
Note that the FDA has not reviewed nor approved sodium ascorbate for the treatment of sepsis.  Phase 3 trials are already being conducted.
SmartSaline™ is a development stage product that is not currently approved for sale by the US FDA.